Turbine Data Protocol Converter Pro-FEPC + IAS
The Pro-FEPC is a ECU data converter compatible with all ProJet Hornet-3 ECU´s (turbine list below).
It will sent the shown ECU meas values back to your Futaba TX via Sbus2 telemetry.
The +IAS version will give you in addition the airspeed measurement an value.
Benefit and features:
Easy implementation, no PC is necessary! Plug and Play! Compatible to ProJet Hornet-3 ECU´s. A real benefit for customer who own a ProJet "GAS-V1.0" modul too.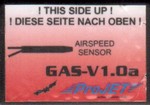 Tailor made support of the following turbines. This gives you correct thrust and fuel flow displays.
BF Turbinen:
BF100, BF140, BF300 and BF350
Hammer Turbinen: IQ90+, IQ130+, IQ140+, IQ170+, IQ180+, IQ190SS, IQ200+ u. IQ220+
Frank Turbine: FT160, FT180Raptor, FT220 und FT250
we are supporting Frank Turbines with brushless pumps too
Behotec: JB130, JB165, JB180 und JB220
The following ECU measured values are transmitted to the receiver:
IAS airspeed (km/h or mph depending on you transmitter setting, only Pro-FEPC + IAS version)
Pump voltage with "Armed Alarm" (fast Flame-Out warning)
Thrust in Newton (N), in relation to the above turbines
Tank volume (mL) alarm will be set in the Futaba transmitter (TX)
Kerosine / FuelFlow (mL/min.) in relation to the above turbines
ECU turbine battery voltage
Turbinen status display in relation of the Projet Hornet-3 ECU vs. Futaba "JetCat V10" display field
All the main important ECU values at a glance
There will be no change in setting up your ECU parameter. The opperator can run the known EDT GSU terminal and the I/O board in paralell with the Pro-FEPC. The Pro-FEPC is not
doing a so called terminal emulation. Please take a look at the above installation picture.
Your Futaba transmitter must be able to provide the so called "JetCat V10" display field! Like Futaba transmitter T18MZ and T18SZ.
Galvanic Separation of ECU electric circuit to receiver electric circuit
(This prevents electric faults caused by the turbine or turbine electric circuit)
Future-proof!! Software Upgrade is possible supplementary (New Features)
40Mhz RISC CPU (Fast processing of the measured values) Nano Watt Technology
Small, light, also fits in small airplanes
Pro-FEPC Protocol Converter specifications:
Input voltage range: 4,5-9,0Volt
Measure values: ECU-Voltage, IAS airspeed, EGT, RPM, Stick-Position, Tank- Volume, Pump-Voltage, Turbine-Status, Power Force and Flowrate
Status values numerical: ECU-Status
Galvanic seperation ECU/ RC: Yes fully isolated
Startup-Time: 10sec. together with Hornet-3 ECU
Optical signalisation: Bus Transmit
Sbus2 compatible: Yes full compatible
Measurements: W x L x D in mm 46 x 60 x 10
Weight: 45gr. all components
Scope of delivery: Complete Pro-FEPC Protocol Converter with connection cable to ECU (RJ-11), data splitter and manual.
Note: The "Gas V-1.0" module must be provided by the customer and is not part of the delivery.