Turbine data protocol converter P2B-Kingtech including
full galvanic separation of the turbine
The P2B-Kingtech converter/sensor compatible with the CORE Telemetry from PowerBox Systems
"Best in Class Turbine Dataconverter/Sensor"
Tailor made individual solution for all Kingtech turbines. It comes in a complete kit.
Easy implementing, no PC is necessary! Plug and Play!
Compatible with the newest G2, G3 and G4 Kingtech ECU featuring the fast CORE telemetry bus.
Each of the following turbines are supported with a individual template. Selectable at the CORE TX setup menu.
K-30G, K-45G, K60G, K-70G, K-80G, K-85G2, K-100G, K-120G, K-140G, K-160G, K-180G, K-210G, K-260G, K-320G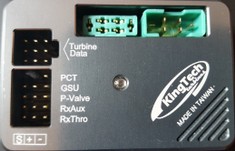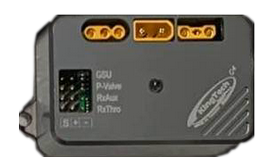 This makes the installation very easy, just select your turbine, all parameter are perfectly set then. No complecated adjustment of a fuel factor.
The following ECU measured values are transmitted to the CORE radio control:
1. Turbine rotational speed (RPM)
2. EGT exhaust temperature (°C or F°)
3. Pump Pulse value with "Armed Alarm" (fast Flame-Out Warning)
4. Thrust in Newton (N or lbf), matched to the type of turbine (see above)
5. Tank content fuel amount (mL or lq oz) alarm can be set within the CORE RC TX
6. Kerosene / fuel flow rate (mL/min. or oz/min.)
7. Control stick gas default in %
8. ECU turbine accumulator operating voltage (ECU battery voltage)
9. Turbine status text indication
10. Turbine type and stick situation shown in text
The most important EDT data are directly visible in your CORE radio control.
Taxi tank function at your finger tip control!
Imperial units like °F, lbf, fl.oz., oz/min. and mph are selectable via the CORE TX
The operator can further use the EDT GSU terminal side by side together with our converter. Plug and Play with the CORE system
Support of up to 4 Turbines in one CORE telemetry installation (Turbine #1-4). Please ask for our multi-engine packages.

Full galvanic separation of the Kingtech ECU. These galvanic separation includes the throttle-, telemetry channel and the power supply for the ECU.
This give you a maximum protection for your CORE receiver system. Full galvanic separation means No ESD (Electro static discharge) can damage your CORE receiver system.
This exclusive security feature is actually only available for CORE customer
Please see our technical white paper for further information on galvanic separation
Future-proof!!! A supplementary software upgrade is possible (new features)
40Mhz RISC CPU (fast processing of the measure values) Nano Watt Technology
Small, light, also fits also in smaller models
Scope of delivery: P2B-Kingtech Converter with all connection cables for the P2B Kingtech data converter, ECU, GSU and the CORE receiver. CB IAS Plus sensor version with true IAS speed display and indication (complete pitot tube and tubbing kit) included.
For quote please be so kind and use our contact form.