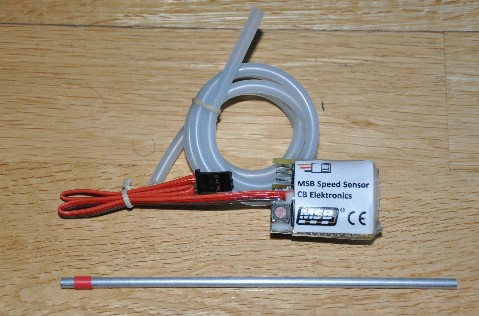 JSS-460 dynamic IAS pressure Speed Sensor compatible to Jeti EX Bus telemetry system.
A speed indicator for all Jeti EX transmitter and receivers with telemetry feedback. Measurement range up to 460 km/h or 286mph.
Easy initial operation (assemble pitostatic tube, plug in, switch on and read test result). No PC is necessary! Plug and Play!
Uniqe one-tube- system for easy installation
Measurement range from 24km/h to 460km/h or a reading in mph
Adjustable speed warning "Stall Speed" and "Over Speed" in the Jeti DC or DS radio control.
Dynamic IAS pressure measurement ( comparison to real airplanes)
20Mhz RISC CPU (fast converting of test results)
Automatic nullification ( auto sensor calibration)
Compatible to Jeti EX and the Jeti Box telemetry
Small, light, also fits into small models (optionally micro pitostatic tube-kit available)
Dynamic and static pressure interpretation for speed measurement
Top-speed (drag indicator)
JSS-460 IAS Speed Sensor Specifications
Input voltage max.: 4,6-9Volt
Measurement range: 24-460Km/h
Error of measurement: +- 5Km/h
Measurement procedure: Back pressure, static and dynamic
Top-Speed threshold memory: Yes!! Not available with REX receiver
Stall-Speed Setup: Yes inside your Jeti TX
Optical signalization: EX Bus activity
More then one Sensor on the Jeti Bus: Yes with Jeti EX Expander
Size: W x L x D in mm 31 x 51 x 20
Weight: JSS-460 Sensor without Pito and tube 20gr.
Scope of delivery: Pitostatic tube, silicon tube about 50 cm and Sensor Electronic